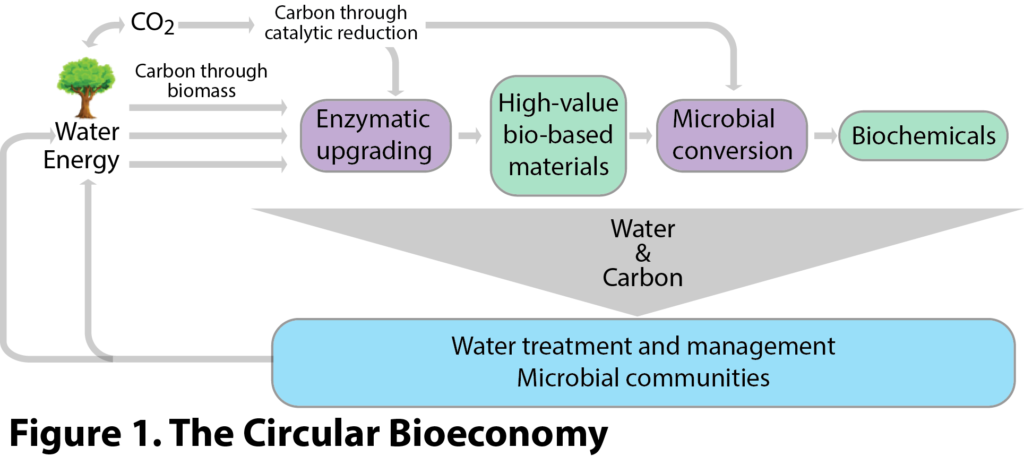 Biotechnologies that transform naturally renewable biomass feedstocks into valuable chemicals and materials - while minimizing water and energy consumption - have the potential to contribute to the circular "bio"economy and to significantly lower the carbon intensity of the Canadian manufacturing sector. Production of biomaterials and biochemicals involves the transformation of renewable and recycled feedstocks into a cascade of products, from high to lower value, where each product and its residues are recycled and remanufactured to extract additional value, with energy recovery as the last stage (Figure 1). CO2 is one such final product that is crucial to remanufacture. Using our expertise in enzyme, microbe, and microbial community engineering, we will develop collaborative research projects focusing on two key components of the circular bioeconomy: enzymatic CO2 fixation to new bioproducts and biological wastewater treatment. Both themes harness the power of microbial communities and their vast gene pool.
Training Objectives
Data Fluency
Modern research tools and instruments generate enormous amounts of data, particularly in biology. This CREATE offers programs that will allow trainees to deepen their understanding of microbial processes.
Interdisciplinary training through co-supervision and team based MASc projects
Specialized courses in:

Bioprocess engineering, Computation for bioengineers, Multivariate data processing, Analytical instrumentation, Data Mining, Technoeconomic analysis, and Life cycle analysis

Annual workshops on data management and stewardship

FAIR (Findable, Accessible, Interoperable, Reusable) principles
Sharing large scientific datasheets

Shared electronic notebooks
Innovation and Entrepreneurship
This CREATE offers hands-on training to educate HQP in four proven, interrelated approaches that accelerate knowledge creation, mobilization and commercialization of industrial biotechnology.
BioZone incubator space and startup grants

Research exchange grants
Community in residence
Publications in pre-print open access archives and submission of data to public databases
Communication and Leadership Skills
This CREATE helps trainees build the communication and leadership skills required to successfully launch and sustain new ventures and to clearly communicate a technology's value proposition to various stakeholders, from investors to the general public.
Data visualization and science communication workshops
iLEAD courses in authentic leadership
Training camp on equity, diversity, and exclusivity
Research Themes
Biotechnologies for the Circular Bioeconomy
Microbial and enzymatic conversion of CO2 to valuable bioproducts
Microbial communities for water and waste treatment and recycling
Technoeconomic and life-cycle assessment of developed bioprocesses and products