Oct
23
Mon
Mass Spec User Meeting

@ Wallberg room 219 (2nd floor)
Oct 23 @ 9:00 am – 2:00 pm
BioZone's Mass Spectrometry Facility is holding our annual meeting for current and future users. The aims of this meeting are:
 to provide users with information on the latest techniques and methods the facility is capable of performing,
and to determine what sample prep techniques and analysis tools our users are interested in having access to.
Planned presentations:
Keynote Address: Metabolomics for enzyme discovery – Dr. Amy Caudy, University of Toronto
Differential analysis of mass spectrometry data for metabolomics and small molecule approaches – Robert Flick, BioZone MS Metabolomics Specialist
What are you missing in your metabolome…the orbitrap MS perspective – Amanda Souza, Thermofisher
Success stories – Short presentations from HQP on successful projects using the MS facility
The meeting will conclude with a User Forum to discuss emerging trends, new technologies, and new protocol development, followed by a tour of the BioZone Mass Spectrometry Facility.
Students will also have a Q&A session with our experts to find out how the facility can help their projects.
Find out more about the BioZone Mass Spec facility here: https://www.biozone.utoronto.ca/mass_spec/
Nov
10
Fri
BioZone Fall Symposium

@ UC 179
Nov 10 @ 1:00 pm – 6:00 pm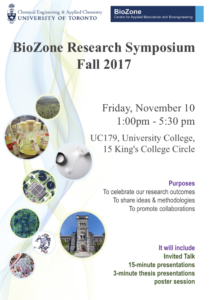 It's time for another BioZone Symposium!! Mark your calendars for Friday November 10 from 1:00 PM to 6:00 PM in UC 179, including refreshments and pizza. Please visit our Eventbrite page to register. Non-BioZone members are always welcome!
Networking is all about sharing experiences and making new connections! Have you started building your professional and academic networking? The BioZone Symposium is a great opportunity to understand the ongoing researches that are happening within and also to practice presentation skills, such as oral speech, your ideas organization, and many other benefits for your professional life.
Presentations include:
1) Poster Presentations
2) 15-minute PowerPoint Presentations
3) 3-minute Thesis Presentations (rules attached)
There will be prizes awarded for each of the three categories. If you are interested in presenting, please email the BioZone Council or let one of us know.
We are also looking for suggestions for external speakers. Please email us with your suggestions.
The symposium offers you a space to:
– Interact with amazing grad students, PDFs, RAs, PIs, research and industrial collaborators,
– Foster collaboration with different lab groups, and
– Have fun!!
Looking forward to another successful BioZone Fall Symposium!!