Congratulations to the U of T iGEM team for their gold medal and "Best Manufacturing Project" nomination at this year's iGEM competition! Check out their project here, entitled "Accelerating Industrial Plastic Degradation with PETase".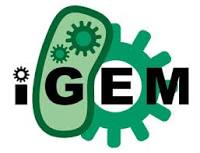 BioZone has been supporting iGEM students at U of T for years by providing them with access to lab facilities. The newly-established Canadian Synthetic Biology Education Research Group (CSBERG) will be the first organization to act as a liaison between BioZone and iGEM, and formally recognize the mentorship work BioZone members have historically done for iGEM students.
The purpose of CSBERG is to facilitate better integration of iGEM into BioZone and to improve the training and supervision of iGEM students working in BioZone labs. CSBERG is also researching the current state of synthetic biology education of iGEM students across Canada, and developing a synthetic biology workshop series to be delivered at U of T in 2020.
CSBERG was founded by BioZone's very own Patrick Diep (3rd year PhD Candidate, Mahadevan/Yakunin), who is the program director of CSBERG. Several other BioZone students (Kavya Siddartha, Olivia Bulka, Nadia Morson) are involved in CSBERG as instructors and project support.