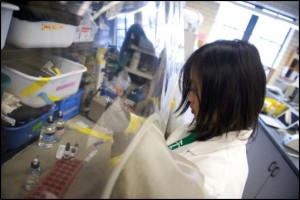 BioZone researchers are leveraging the tremendous advancements in genomic sciences and their unique complementary expertise to tackle a wide range of research topics at the intersection of biology and engineering.
Please click on the links below for more detail on specific research themes. These research topics include: sustainable production of biofuels and bioproducts, bioremedation of contaminates in ground water, wastewater treatment, anaerobic digestion, cellular and protein engineering for health, food, nutraceuticals, and chemical manufacturing.
For more information on these areas can be found below.
Sustainable Production of Bioproducts and Biofuels
Bioremediation and Wastewater Treatment
Cellular and Protein Engineering for Advanced Health Solutions